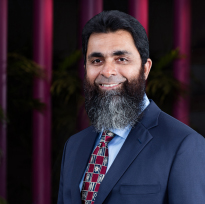 Abdul Nasir is a Certified Public Accountant (CPA) and has BBA (Accounting) degree from the University of Houston.
Abdul Nasir has been with the Company since 1995. He is a seasoned finance executive with an excellent track record. After obtaining his training in the United States, Nasir joined a major accounting firm in Middle East where he worked in various positions before returning to Pakistan.
He is a member of the American Institute of Certified Public Accountants (AICPA) and also a life time member of the American Honor Society, Beta Gamma Sigma.