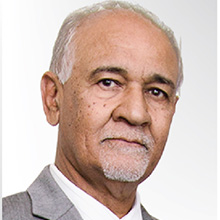 Javed Akbar has undergraduate and post-graduate qualification in Chemical Engineering from the United Kingdom, and has over 40 years of experience in fertilizer and chemical business with Exxon, Engro and Vopak.
He has managed Exxon and Engro fertilizers plants and their expansions in Pakistan, worked in Exxon's Chemical Technology divisions in USA and Canada, and served as Human Resources Manager in Exxon Pakistan. He was part of the buyout team when Exxon divested its stake in Engro.
Prior to his retirement in 2006, he was Chief Executive of Engro Vopak Terminal Limited, a joint venture between Engro and Royal Vopak of Holland. After his retirement, he established a consulting company specializing in analyzing and forecasting petroleum, petrochemical and energy industry trends and providing strategic insight. He is on the boards of Engro Fertilizers Limited, Engro Powergen Limited, Engro Powergen Qadirpur Limited, Engro Vopak Terminal Limited, and Javed Akbar Associates (Private) Limited. He also serves on the panel of Energy Experts Group and environmental experts of Sindh Environmental Protection Agency. He joined the board of Hub Power Company Limited in 2017.